---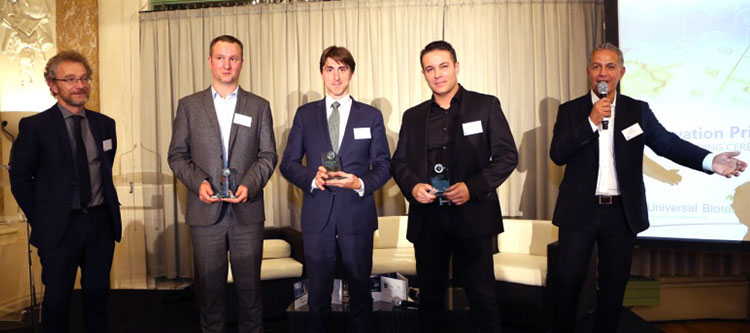 Launch of the call for projects Innovation Prize 2018
The Innovation Prize is back for its 10th consecutive year!
Each year, the innovation prize awards the most innovative projects in the healthcare field from either young startups (<8 years) or academic research groups. Since 2009, this competition has benefited or benefits from the support and collaboration of many pharmaceutical companies such as GSK, L'Oréal, Pierre Fabre and Servier as well as internationally renowned academic institutions such as ANR, European Commission, Pasteur Institute and the Karolinska Institute.
In 2017, for its 9th edition, more than 260 candidates from 31 different countries participated in the competition. Three teams were rewarded:
NLS Pharma (Swiss) – Biotech Prize
BaseCamp Vascular (France) – Medtech Prize
Sinnovial (France) – Digitech Prize
Why should I participate in the 2018 Innovation Prize?
By submitting your project to Innovation Prize 2018, you will increase its exposure within the Life Science market and help introduce it to potential partners and investors. Your project will also be assessed by leading experts who will provide you with expert advice and feedback to help you optimize your business plan.
Each laureate will also win up to €30 000 in the form of a cash prize and consulting services from Universal Biotech.
How can I participate?
Three prizes will be awarded for this 10th edition: The Biotech Prize, the Medtech Prize and the Digitech Prize (health NICTs including e/m-health, platforms and connected objects).
The project leader can apply online from the 5th February 2018 by filling out an application on our call for projects platform, Open Innovation Access. The platform will remain open until April 30th, 2018.
Our jury panel, made up of international experts from pharmaceutical companies and academic institutions, will assess your project based on the following criteria:
Scientific quality of the innovation
Team expertise and diversity
Intellectual Property strategy
Project feasibility
Chances of success on the market
The Innovation Prize 2018 awards ceremony will take place next October in Paris.
More information about Innovation Prize
---