---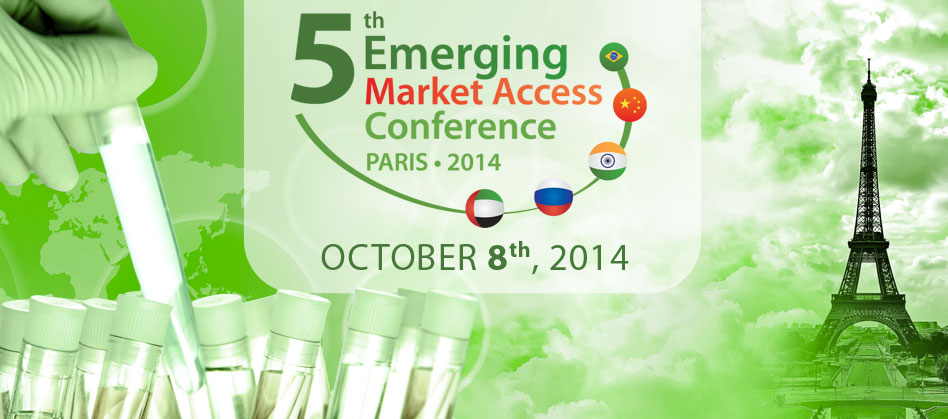 Emerging Market Access Conference – Focus on MENA region
Register now for the first international event in France dedicated to emerging markets for the life science industries and meet all the stakeholders!
5th Emerging Market Access Conference
Maison Internationale – Cité Universitaire
17 boulevard Jourdan
75014 Paris France
(Train RER B)
Wednesday October 8th, 2014 
UNIQUE FORMAT – INTERACTIVE Q&As – INTENSIVE SESSIONS – EXCHANGE OF INFORMATION
Wednesday, October 8 will be held in Paris, France the 5th Emerging Market Access Conference
1st event in France dedicated to Emerging Markets for all Pharma, Biotech & Medtech industries
This year, the focus will be on the MENA region with leading experts from the region.
Meet:
–       Mohamed Khalil ALLOUCHE, Market Research & Business Development Manager, PFIZER
–       Gaël LE ROUZO, Commercial Director – Far East, SANZAR & North Africa, EUSA PHARMA
–       Yildiz LEVENT, Head of Market Access, Middle East, Africa & Turkey, BOEHRINGER
–       Macarena NUNO, Human Capital Project Officer, IPEMED
MENA includes all the countries of the Middle East and North Africa, it extends from Morocco, North-West of Africa until Iran and upto South-West Asia.
In this area, health care is relatively expensive and it is not uncommon to see unavailability of drugs. It is therefore essential to have a perfect understanding of the current situation, highlighting the strengths, weaknesses, opportunities and threats. Also, knowing the strategies for pricing, market access of drugs and healthcare reforms are fundamental to succeed and grow in this region.
The pharmaceutical industry should achieve sustainable growth in the medium and long term in MENA region. Tomorrow new opportunities will enable a new growth of the health sector. Knowing the tomorrow's challenges of the market is vital.
Come and share with the experts by signing up now and check out our program on:
---