---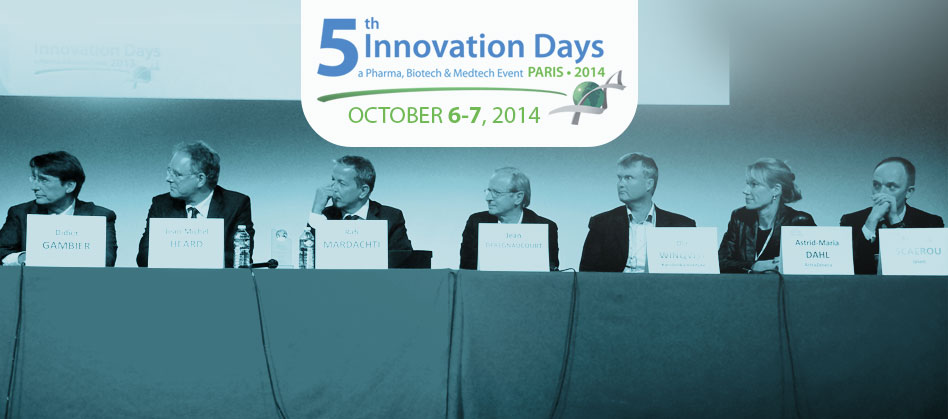 Innovation Days 2014 Speakers
Universal Medica Group and its partners are proud to announce the first confirmed speakers for the 5th edition of the Innovation Days.
This edition will take place in the Maison Internationale de la Cité Universitaire of Paris, from the 6th to the 7th of October 2014.
This international event brings together all the actors of the Medtech, Pharma and Biotech, gathering more than 600 participants.
Register now and benefit from a 20% discount: Pass Early Bird registration until 31st of July 2014.
BEST OF INNOVATION BIOTECH, MEDTECH & LIFE SCIENCE
Conferences – Keynotes – Workshops – Exhibitors – Innovation Gallery
2500 partnering one-on-one
Awarding ceremony 6th Innovation Prize
Networking cocktail & lunches
50 international speakers
Monday, October 6th, 2014
9:45 – 10:30 am
PLENARY SESSION – ACCESSING INNOVATION: HOW TO BUILD EFFICIENT PARTNERSHIPS
MAIN TOPIC: OPEN INNOVATION
Moderator:
Jean DEREGNAUCOURT, Executive Vice President Business Development, Institut Pasteur
Panelists:
Zeina ANTOUN, Clinical Research Director, GlaxoSmithKline
Patrick, VP Europe Business Development, Market Access and Public Affairs, Myriad Genetics
Pascal TOUCHON, Head of Business Development & Scientific Cooperation, Servier
Sascha ALIVOVIC, Head of Corporate Finance and corporate development department, MORPHOSYS
11:00 am – 12:30 pm
KEYNOTE SESSION — INNOVATION MAP 2014
MAIN TOPIC: FUTURE HEALTH
Panelists:
Rafi MARDACHTI, CEO & President, Universal Medica Group
2:00 – 2:45 pm 
TRACK – NEW FUNDING SOURCES: ROADMAP TO A SUCCESSFUL FINANCING PLAN
MAIN TOPIC: INNOVATION FINANCING
Moderator:
Thierry LAUGEL, Managing Partner, KLS Partners
Panelists:
Sascha ALIVOVIC, Head of Corporate Finance and Corporate Development department, Morphosys
David H. DONABEDIAN, Vice President, Head of Ventures & Early Stage Collaborations, Abbvie
2:45 – 3:30 pm 
TRACK – UNDERSTANDING INTELLECTUAL PROPERTY
MAIN TOPIC: INNOVATION MANAGEMENT
Moderator:
Cécile THEARD-JALLU, Partner, Operations Division, de Gaulle-Fleurance & Associés
Panelists:
Eric ENDERLIN, Patent and Trademark attorney, Novagraaf
Francine LE PECHON-JOUBERT, Partner, Operations Division, de Gaulle-Fleurance & Associés
3:30 – 4:15 pm
INNOVATION IS ALSO PATIENT EMPOWERMENT
MAIN TOPIC: PATIENT CENTRICITY
Moderator:
Giovanna MARSICO, Director, Patients and Web
Panelists:
Matthias BORN, Vice President/General Manager DC, BD Medical WE & EMA, Becton Dickinson
Lode DEW ULF, VP, Chief Patient Affairs Officer, UCB
Alexander NATZ, Secretary General, European Confederation of Pharmaceutical Entrepreneurs (EUCOPE)
4:30 – 6:00 pm
6TH INNOVATION PRIZE AWARD CEREMONY 
MAIN TOPIC: THE BESTS INNOVATION
Jury members:
Jean DEREGNAUCOURT, Executive Vice President Business Development, Institut Pasteur
Zeina ANTOUN, Clinical Research Director, GlaxoSmithKline
Pascal TOUCHON, Servier
Patrick KORMAN, Myriad Genetics
Chistophe THURIEAU, Ipsen
Richard PLEASS, Liverpool School of Tropical Medicine
Ola WINQVIST, Karolinska Institutet
Antony LEBEAU, Agence Nationale de la Recherche
Maurice CHELLI, Pierre Fabre
Cécile THEARD, Cabinet De Gaulle & Associés
Tuesday, October 7th, 2014 
9:45 – 10:30 am
DIGITAL HEALTH FORUM: BRINGING DISRUPTIVE TECHNOLOGIES TO MEDICINE & HEALTHCARE
MAIN TOPIC: E-HEALTH
Panelists:
Isabelle HILALI, Vice President, Strategy & Marketing, Orange Healthcare
Nicole HILL, Global Healthcare Director, Alcatel-Lucent Enterprise
Presenting companies:
Ariel BEERY, CEO, MobileOCT
11:00 am – 12:00 pm
PLENARY SESSION — BIG DATA REVOLUTION: ACCELERATING VALUE AND INNOVATION 
MAIN TOPIC: BIG DATA
Panelists:
Mike FURNESS, Scientist, DNA Nexus
Edward ABRAHAMS, President, Personalized Medicine Coalition
2:00 – 2:45 pm
PLENARY SESSION — BIOTECH MEETS MEDTECH
MAIN TOPIC: MEDTECH FUTURE PERSPECTIVE
Panelists:
Andy ANDERSON, International Product Manager, Companion Diagnostics, Roche Diagnostics International Ltd
3:00 – 4:30 pm
PRESENTING COMPANIES
MAIN TOPIC: INVESTOR FORUM BIOTECH ELEVATOR PITCH
Judges:
Nick DUNSCOMBES, Head, Alliance & Integration Management, Astrazeneca
Frank GRAMS, VP, Head Alliance Management & Transactions, Sanofi R&D
Ruth McDERMOTT, Commercial Development Manager, Cell Therapy Technologies, GE Healthcare
For more information and registration, please visit our website: http://www.lifescience-outlook.com/innovationdays
---