---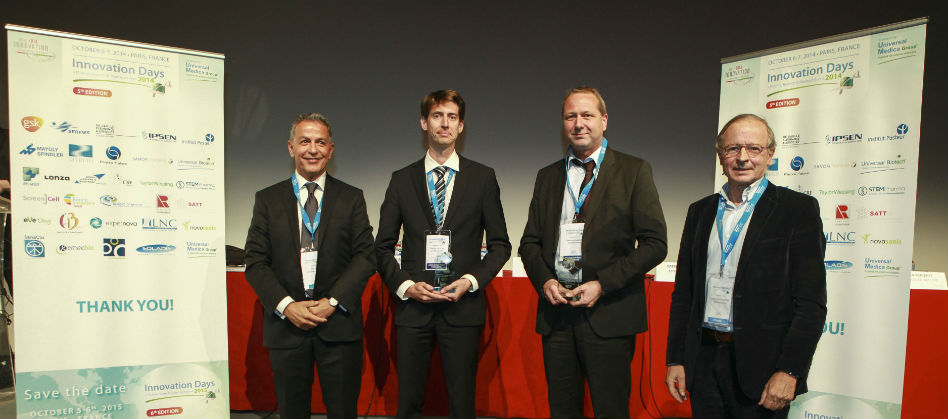 Presentation of the Innovation Prize 2014 laureates
An exceptional and unexpected outcome of the 2014 edition of the Universal Biotech Innovation Prize has surprised the audience: the 6th edition has 2 winners, one best Biotech project and one best Medtech project.
Open to young innovative companies, academic and private researchers, the Universal Biotech Innovation Prize aims to acknowledge on an international scale, the most innovative early stage projects in life sciences. For the past five years the prize has awarded projects from France, Sweden, Germany and the UK.
For this 6th edition, 214 applications have been submitted. After first analysis, the 102 most interesting and innovative projects have been short-listed,
Then, these 102 projects from 31 countries were reviewed and evaluated by a jury panel composed of well-regarded experts from the life sciences industry and European institutions, and chaired by Jean Deregnaucourt, Executive Vice President of Business Development at Institut Pasteur. The jury members paid particular attention to the scientific quality of the innovations, their intellectual and industrial property protection, the quality of the human resources as well as their project feasibility and chances of success on the market.
Among the finalists, the competition was intense and the jury had to select the best among 5 projects from Belgium, France, Switzerland and Germany.
The 2014 Universal Biotech Innovation Prize of 60.000 € (including cash and services), was, this year, especially awarded to 2 winners:  both Swiss projects Asceneuron and G-Therapeutics. Asceneuron is a company developing a drug for the treatment of the progressive supranuclear palsy. G-Therapeutics provides a medical device which can help paralyzed people to walk again.
The awarding ceremony was held in Paris during the 5th Edition of the Innovation Days on October 6th. The Innovation Days is an annual life science event intended to gather all the major actors of the life sciences value chain including early stage companies and academic projects, biotechnology clusters, executives from the pharma and medtech industries, investors, intellectual property specialists and European institutions.
The Innovation Prize has been continuously growing since its creation in 2009, fostering more and more innovative projects all across the globe in all the major fields of life sciences. The 7th edition of the Innovation Prize will be launched in February 2015 with the call for proposal and will be awarded on October 5th 2015 during the 6th edition of the Innovation Days.


---