---
Interview of Universal Biotech's CEO Rafi Mardachti
The 8th edition of Universal Biotech's Innovation Prize
Universal Biotech is a French company specialized in managing and guiding start-ups in the field of biotechnology, that launched Innovation Prize in 2009. Internationally recognized for the quality of selected and presented projects, this award is currently in its pre-selection phase of the 8th edition. Interview with the President of Universal Biotech, Mr Rafi Mardachti.
What were your motivations and objectives when creating this competition?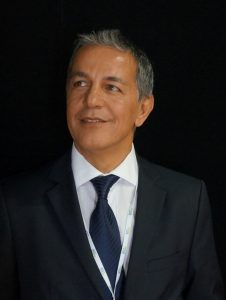 Rafi Mardachti (RM): Universal Biotech is a company that is 100% French, it guides and manages Biotech start-ups during their early phase of development.
For 8 years, we have organized an innovative event that brings together industry experts and ground-breaking projects in what is called: Universal Biotech's Innovation Prize. This award aims to detect the most innovative early-stages project in the field of:
– Biotechnology,
– Medical Devices and Services,
– E-Health
With 260 projects presented from 38 different countries (Europe, Asia, the United States, MENA…), this competition attests our international and growing reputation. We have experienced unparalleled success with 60% of our finalists having established a financial or industrial partnership. For example, the company Iteos, who were finalists in 2014, went on to procure a partnership with Pfizer worth 24M€.
What are the criteria to select the projects and who makes up the jury and selection committee?

RM: Universal Biotech's Innovation Prize is open to young start-ups (less than 8 years of activity) and projects from academic laboratories.
The jury is made up of healthcare executives, investors and intellectual property consultants who analyze and evaluate the projects based on:
– Scientific quality of the innovation
– Competency of the management team
– Level of intellectual property
– Project feasibility
– Chance of success in the market / Investor interest
The Innovation Prize is chaired by Pierre Legrain, Vice-President Development at the Pasteur Institute.
How is universal biotech's innovation prize conducted?

RM: The application phase for the projects run from February to the end of April, every year. In May, among the 260 projects submitted from 38 different countries, approximately 20 are selected for the semi-final round. These projects are subject to a request for further information.
The analysis is then further refined in order to select 6 finalists (3 Biotech / 3 Medtech & Services) who are then interviewed by the jury in September. The presentation of Universal Biotech's Innovation Prize is held during Innovation Days which will take place on the 3rd & 4th, October 2016 at Maison de la Chimie in Paris. This important event is dedicated to the management of innovation in Life Sciences and will bring together more than 600 professionals on an international scale this year. The two Innovation Prize's laureates are awarded cash prize and a year of consulting services, with a combined value of €60 000, offered by Universal Biotech.
What trends have you noticed in the projects submitted?

RM: Several trends are identifiable but we have a noticed a dominant number of Medtech and E-health projects.
INNOVATION DAYS 2016: In the heart of a changing sector
On the October 3&4, benefit from two days of hight-quality conferences to develop, manage and promote your innovative project with international speakers.
The best insight on Life Sciences Innovation
The 2016 landscape & Impacting perspectives
Strategic Alliance Management
Innovation Prize 2016 Award Ceremony
The best outcomes from your innovation
From intellectual property management to exploitation of R&D results.
Case studies
Develop an entrepreneurship culture
Financing an Innovative project
Mapping and typology of investors
Off sight & alternative funding resources for your project
Where Innovation Providers and Innovation Developers meet together
Promoting and selling your innovation
New ways & tools to detect innovation
Innovation Days is an event organized by Universal Biotech.
For more information: Universal Biotech, http://www.universal-biotech.com/activites/biotech/
Innovation Days, https://www.lifescience-outlook.com/innovationdays/
---