---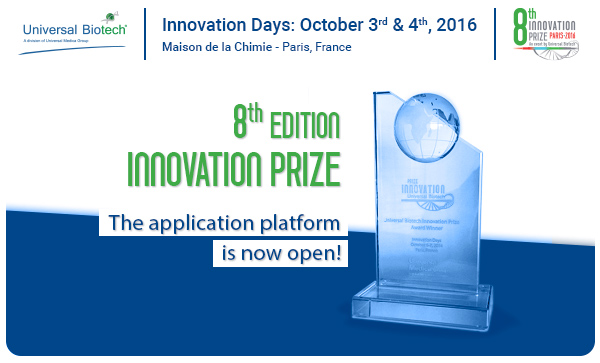 Innovation Prize: the 8th edition has begun!
Universal Biotech is proud to announce the launch of its call for projects of the 8th edition of the Innovation Prize, which aims to add value to young startups and academic lab developing an innovative project in the field of Life Sciences. If you are currently working on a new drug/application/device in the healthcare sector, submit your project on our platform and get it reviewed by our international board of experts.
A competition designed for you
After a high-quality selection, the 2 most promising projects (biotech & medtech) will be awarded during the Innovation Days 2016, on the 3rd and 4th of October at the Maison de la Chimie, Paris. This event brings together public & private actors of the healthcare sector to maximize business opportunities during two days of high-level conferences and one-on-one partnering meetings.
For the last edition, nearly 300 applications from 34 different countries were received. Plus, among the 26 startups which have reached the final step of this competition, 60% of them raised funds or performed partnerships with private pharmaceutical companies. Since its lauch, this competition has benefited or benefit from support of private companies (AstraZeneca, Clevexel Pharma, GSK, Ipsen, LFB, L'Oréal, Mayoly Spindler, Merck, Myriad, Pierre Fabre, Servier) and from the contribution of members of renowned academic/public institutions (European Commission, Karolinska institutet, National Research Agency, Pasteur Institute), and thus had become a reference for the emergence of biomedical innovation worldwide.
Participate in the Innovation Prize and showcase your innovation by submitting your application on the following link: https://www.universal-biotech-prize.com
For more info, contact us at prix-innovation@universal-biotech.com
---