---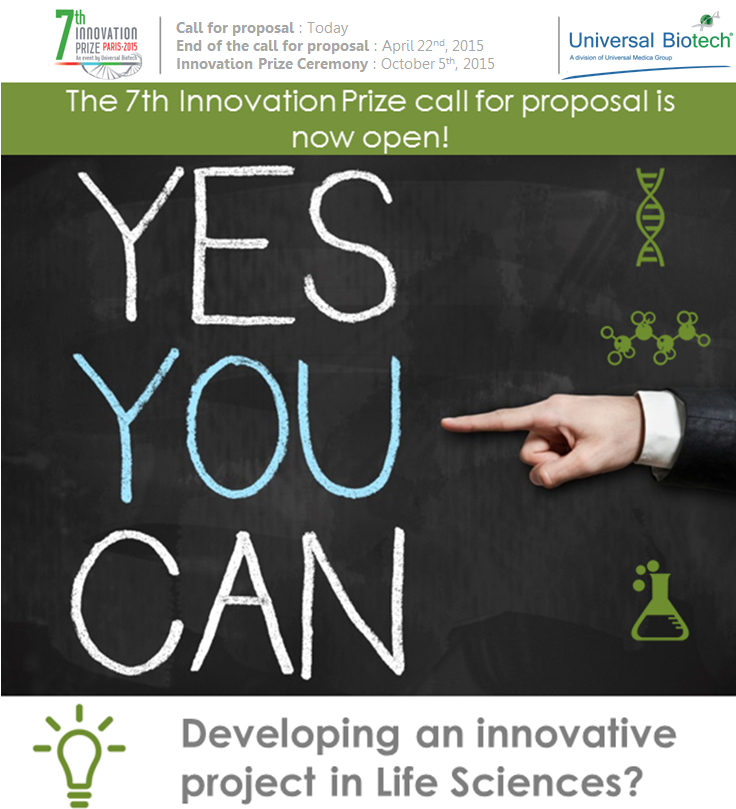 The call for proposal of the Innovation Prize opens now!
Are you a young start-up (<8 years) or an academic researcher who wants more visibility and professional feedback on your running project?
Are you implemented in the development of an innovative drug, medical device, application, or technology that serves the needs for diagnostics, therapeutics or E-Health within Life Sciences?
Are you ready to share your passion for innovation ?
Yes, you can be the laureate of the 7th edition of Innovation Prize!
Interested? We'll tell you how to apply!
Our « Open Innovation Management » platform* is now open and ready to be used. Take a look and subscribe now easily to submit your project.
(* use of Mozilla Firefox and Google Chrome recommended)
Through several steps, your project will be evaluated by the Jury on the following criteria:
– The scientific quality of the innovation
– Intellectual property strategy
– The quality of human resources
– The project feasibility
– The chances of success on the market
The Innovation Prize ceremony will take place on the 5th of October during the Innovation Days.
Questions or remarks?
Email or call us and follow us on Linkedin, Twitter and our website to stay up-to-date!
Innovation Prize 2015 Team:
Dieter Deryckere: +33 (0) 1 41 12 27 92
dieter.deryckere@universalmedica.com
Jeremy Berthuin: +33 (0) 1 41 12 27 87
jeremy.berthuin@universalmedica.com
The call for proposal of the 7th edition of the Universal Biotech Innovation Prize opens now! If you are a young start-up or an academic lab developing solutions for the healthcare industry, you can submit your project through our platform.
---